Net24 Mobile App
Your SECU Accounts at your Fingertips
Access your SECU accounts right from your smart phone or tablet. With the secure Net24 Mobile App, you can check your account balances, transfer funds, see your account history, pay bills, deposit checks up to $5,000, find a CO-OP Shared Branch or Allpoint ATM, assign touch ID and more.
Download the free mobile app from Google Play or the App Store today. Search for "Schlumberger Employees Credit Union" and look for our logo. Use your Net24 Online Banking credentials to log on.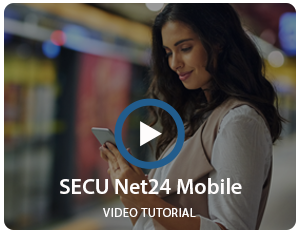 **SECU's Net24 Mobile App is only available for secure download through the App Store and Google Play. Third party providers offering the app may be phishing for information. Do not download the Net24 Mobile App from providers other than the verified App Store or Google Play.
Other Ways to Access
Access via Web (WAP) - Login to Net24 Service, select Mobile link, then register. Or if already registered, select "I want to get a link to the Mobile Banking website" or use this mobile link
Access via Text Messaging (Account Balances and History only)- Login to Net24 Service, select Mobile link, then register for TXT (SMS) banking. System will use Short Code: 39872
Account Alerts to your Cell Phone (Balance, Low Balance, Direct Deposit Arrival, Transactions by Type)- Login to Net24 Service, select Settings link, then Security and Alerts (options below, sent via Short Code: 87431):
Disclaimer: The information contained in this website is for informational purposes only. To the extent that there is any discrepancy between information, including interest rates or other financial terms, posted on this site and information available at our branches, the information available at the branches will take precedence.

Please note that by selecting any of the 3rd party website links above, you are leaving the Schlumberger Employees Credit Union "SECU" website. SECU is not responsible for the content on these 3rd party websites or for any claims, lawsuits, or loss associated with using any of the above vendor?s products or services. Privacy and or security may differ from that of SECU's policies. Information and links listed above are for member's convenience and ease of information access.